Sustainability is a hot topic, and at ASVA we think it is important too. ASVA is committed to a more sustainable world in several ways.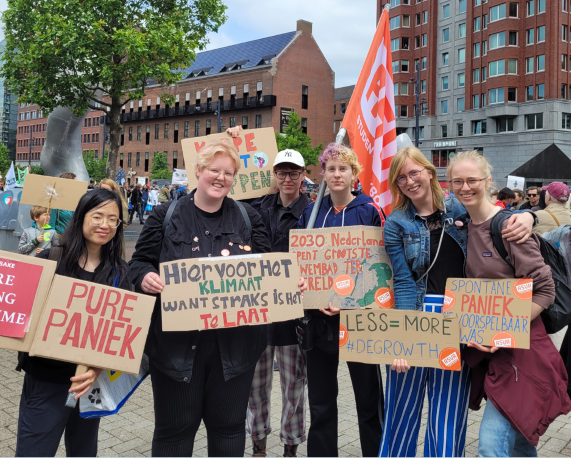 First, we are involved in several organisations. For example, we are involved in Students For Future, the student branch of Fridays for Future. Furthermore, we work closely with the UvA Vegan Canteen working group: a group of students and the UvA Green Offices looking at how we can make the UvA, and specifically the canteen, greener. Similarly, we are also involved in the HvA's Green Office. Another important partner for us is Greenpeace. We for example often participated and even spoke at anti-aviation protests.
Secondly, we are also trying to make ASVA itself more sustainable. Our WoMiLu's (Wednesday Afternoon Lunch) are vegan by default, beyond that we only reimburse vegetarian food, print as little as possible and use sustainable products as much as possible.
Third, of course, we are (have been) present at various protests. What does that look like? Well, pretty much like this.
In January, we've organised the Week of Sustainability. This week is all about excursions and events, and tips and information on sustainability.
Third, we help student organisations to become more sustainable. For example, we have a manual on how to transfer to a more sustainable bank. You can find this here.
Want to know more, have a good idea or want to get involved with ASVA? Then email duurzaamheid@asva.nl