Student Housing in Numbers
Every year, Kences, an umbrella organisation of student housing providers (including DUWO and De Key), conducts research into student housing, both in the Netherlands and in individual student cities. The figures on this page are from the Local Monitor Student Housing Amsterdam 2021.
This page contains a summary of the results of this Local Monitor Student Housing 2021. 
Population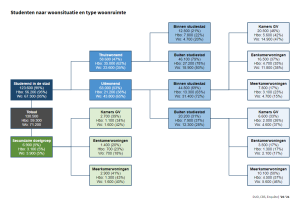 More than 120,000 students study at a higher education institution in Amsterdam. In this study, they are referred to as the primary target group.  This number will continue to grow to approximately 142,600 in '27-'28. In addition, there are about 6,900 students who live here but do not study here. This is the secondary target group. 
Of this primary target group, just over half live away from home, the vast majority of which (45,000) live in Amsterdam. Most of them live in rooms with shared facilities, but 37% live in a one-room flat, i.e. a studio. Then there is a smaller proportion living in a multi-room flat. The number of students in Amsterdam has risen sharply, by 5.4%. Normally this growth was between 0 and 2%. The rest are living outside Amsterdam. Amongst home residents, the vast majority (46,000, 80%) live outside Amsterdam. 
Students who do not live in Amsterdam, but study there, often live nearby, for instance in Haarlemmermeer, Almere or Zaanstad, or in other student cities such as Utrecht or Leiden.
Living Situation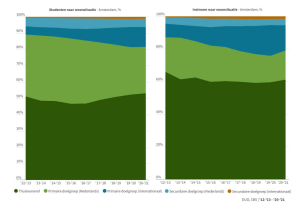 As you can see in this figure, the number of students living at home has increased in recent years: from '15-'16, the number of Dutch students living away from home has dropped from 40% to 28%. However, there are more international students. The study suggests that this may have something to do with the introduction of the loan system: now that students no longer receive a basic grant and have to borrow everything they need for their study costs and living expenses, many choose to stay at home for longer to save money. 
Slightly less than half of the students rent from a housing association, the vast majority of whom do this at DUWO or De Key. More than a third also rent from a private landlord. Students generally live in a room, sharing facilities with housemates. This is the case for 43% of the students living away from home in Amsterdam. More than a third live in studios, and almost a fifth live in multi-room dwellings.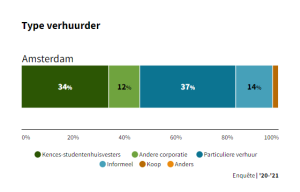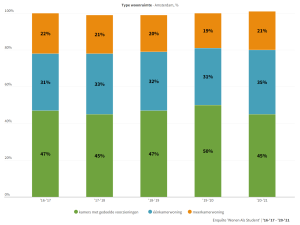 The figure below shows that the surface area of student rooms is increasing: there are therefore more large rooms. For all types of accommodation, the average surface area has increased in recent years.
For rooms with shared facilities, 50% have a room smaller than 14 square meters, while single-room dwellings are generally between 18 m2 and 21 m2, or larger than 28 m2.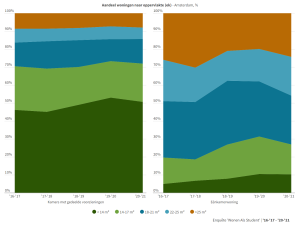 Affordability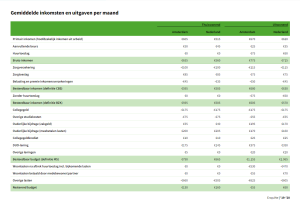 This table shows the average income and expenditure of students in Amsterdam and the Netherlands, living at home and away from home. The first thing to notice is that (especially for students living away from home) there is not much money left at the end of the month. This is of course mainly because they have to pay a lot of rent, in Amsterdam on average around €500.
Students finance this either by borrowing from DUO or by working. Especially for the first source of income, there is a big difference between students living at home and students living away from home. In short: students who want to move out of their house will have to be prepared to borrow money to do so. It is also worth noting that on average, students receive a lot of money from parental contributions. This also seems to be a requirement, although not all parents are able to do this.
This borrowing leads to students living away from home in particular building up a high study debt. 
The fact that students renting a room in Amsterdam have to borrow a lot is not surprising when you look at the average housing costs. These amount to no less than €545 per month, which is about 50 euros more than the national average.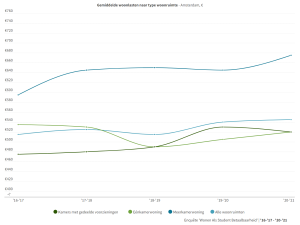 Especially in the private rental sector, high rents are asked for, around €635. These prices have risen incredibly fast in recent years: 27%. In the rest of the Netherlands this was 19.5%. However, the average price at non-Kences corporations and informal rentals also exceeds €500. The Kences corporations are by far the cheapest, with a rent of around €420.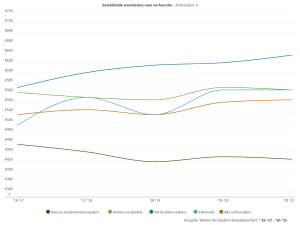 The high rents and precarious financial position of students result in an average housing expense ratio of 46.8%! This means that students living in Amsterdam spend slightly more than half of their income on housing costs. This is slightly above the national average: 46.1%.  In general, a housing expense ratio of 20%-30% is considered normal. All students in the Netherlands therefore spend far too much on rent.  
Housing demand and moving options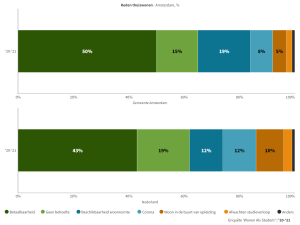 Not everyone who would like to live in a room in Amsterdam actually does so. Many students still live at home. There are several reasons for this. The bar charts on the left show that affordability is the reason for 50% of the people still living at home. New this year, of course, is Corona: 8% indicate that they would not move out of their house because of Corona. Availability has declined as a reason: probably because there was temporarily more supply due to international students staying away.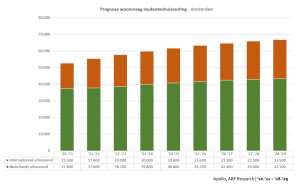 The latter will probably disappear soon enough: the housing shortage in the housing market is increasing again. Growth of 14,100 students is expected until '28-'29. This will lead to even more people wanting to find a house on the housing market, while construction is not going fast enough.
The housing demand now totals 58,300, while only 51,200 students actually live in rooms. This means that there is a shortage of 6600 houses. This will only increase with the current growth.